Fishing is one the best sports anyplace. With the vast assortment and types of fishing to cast and many species to hook and catch, one can easily find something they like in La Push, Washington. Sportfishing, in the  area, has become very popular. Three charter companies operate in La Push.  Surf fishing can also be had on the beaches.  Fishermen in the area catch salmon (Chinook, coho, and pink) and bottom feeders, such as rockfish, halibut, and lingcod.

La Push is situated just12 miles above Forks Washington and is home to the Quileute Tribe.  It resides in the region of the Indian reservation of the Quileute Tribe.  According to their creation story the Quileute "were changed from wolves by a wandering Transformer" and their "only kindred, the Chimakum Tribe, were washed away by flood and deposited near present-day Port Townsend," in time to be annihilated by the Suquamish Tribe in the 1860s. The Quileute historically fished also hunted seals and whales, whaling in red cedar canoes as far as Southeast Alaska and California. The Quileute were regarded by many as "second only to the Makah as whalers, and first among all the tribes as sealers."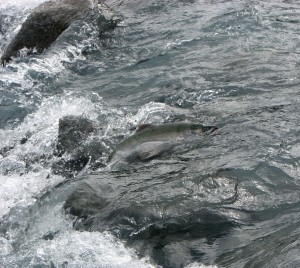 Salmon fishing is as great here as anyplace on the coast, for both chinook salmon and coho salmon — kings and silvers in angler speech. Previously it was recognised principally for its silvers, and they still often average out a pound roughly greater than those caught elsewhere off Washington. Still today it  is also recognised for its king fishing, possibly for more dependable boats and motors, fishermen are roaming farther out than in the past.
The daily restriction in the sea is two salmon, only one of which can be a chinook salmon and any coho salmon kept must be a marked hatchery fish missing an adipose fin. Off the north coast, fisherment may round off their limits with one extra pink salmon.
Travel to the area and fish the world famed Quillayute River on the beautiful Olympic Peninsula of Washington also fish the Hoh river which is famous for its large runs of king salmon. The Quillayute river is made by the three main tributaries the Sol Duc, Bogachiel, and the Calawah rivers, all of which provide world class Steelhead and Salmon Fishing. During the summer Apr 15 thru Oct 6 you'll be sportfishing the sea for lingcod, halibut,tuna, sea bass, and salmon.  Fishing charter boats depart every morning end-to-end the summer months.
You'll catch plenty of kings and silvers the day you're out fishing, but none more than 18 pounds.
Facts about La Push, Washington
It  is located on the northwestern seashore of Washington's most westward peninsula and resides at the mouth of the Quillayute River.  It's surrounded by the lush forests of Olympic National Park. You are able to travel to the area by road or boat. The closest airport is in Port Angeles, roughly 70 miles away.
It is populated nearly entirely by the descendents of the ancient Quileute Indian tribe, which is said to have inhabited this area of Washington for thousands of years. The town, a local resort and sportfishing harbor are supervised by the Quileute tribe.
The area is renowned for its sea fishing, and numerous fishing tour services are in operation.   They report first-class fishing conditions for king, Coho, Chinook and silver salmon, in addition to as halibut and cod.
For less crowded beaches visit during the wintertime, when you'll be rewarded with winter storms, wonderful beachcombing, your pick of the lodging, and you can warm up in the evening with a romantic beach fire – although make sure you adhere to the camping rules.
Grey whales are spotted as they arrive close to the shore on their annual migration in spring and autumn, and if you're lucky you perhaps able to get close enough to kayak beside them.
Over one weekend in mid-July annually you can attend two days of cultural heritage festivity, where you are able to participate in traditional song, dance, salmon bakes, and arts and crafts.
Similar Posts:
Fishing Forks Washington Fishing Forks A family that prays together stays together. A few families go fishing together as wel

Quileute Tribe La Push, Washington People and Places Location La Push, the location of the Quileute Tribe's reserva

Quillayute Native American Tribe The Quillayute are a Native American tribe located in western Washington in the United States of Ame

Quileute Tribal Council The Quileute, also known as Quillayute, is a Amerindian people in westerly Washington state in the U

Quileute Tribe Notoriety Quileute Tribe The Quileute Tribe, also known as Quillayute, is a Native American people settled on